Datest Receives 2018 Service Excellence Award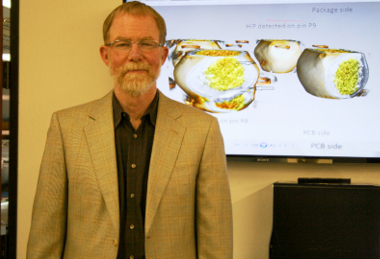 FREMONT, CA — February 2018 — Datest, a leading provider of advanced, efficient and mission-critical in-circuit testing, test engineering and X-ray inspection solutions, today announced that has been awarded a 2018 Circuits Assembly Service Excellence Award (SEA) for its outstanding customer ratings, as judged by its own customers. Datest was selected for the Test Laboratories category.
Circuits Assembly Editor-in-Chief, Mike Buetow presented the award to Robert Boguski, Datest's President, during a Tuesday, Feb. 27, 2018 ceremony that took place at the San Diego Convention Center during the IPC APEX EXPO. Mr. Boguski commented about the award, "This is the second time in 3 years Datest has won the Service Excellence Award in the Test Laboratories category.  It is especially uplifting to know that this year's award was based on the commendation of a completely different set of customers than our 2016 Award.  We do our best to make friends and help them out of tight spots in the test engineering and failure analysis sphere.  Solving problems keeps customers coming back, and recommending new customers.  This award validates our efforts."
An ISO9001- and AS9100-certified company, Datest has been providing the CM/EMS as well as the OEM community with advanced, integrated PCBA testing and inspection services since 1984. The company offers in-circuit testing (ICT) and test development (hardware and software) for all major ICT platforms (Agilent 3070, GenRad, and Teradyne).
Sponsored by Circuits Assembly, the SEAs for Electronics Manufacturing Services (EMS) providers and electronics assembly suppliers honor companies excelling in the crucial area of customer service. The program, now in its 26th year, functions as a way for participants to see how they compare to peers in customer satisfaction.
About Datest
Datest is the preeminent provider of advanced, efficient, and cost-effective PCBA testing, test engineering, failure analysis and analytical solutions. Established in 1984, Datest now offers in-circuit and flying probe testing and development services; DFT/DFM analysis; JTAG/Boundary Scan development services; AXI as well as 2D and 3D X-ray and CT-scan capabilities for nondestructive failure analysis, root cause identification, and dispute resolution.  The company also offers cross-sectioning, dye & pry, and analytical laboratory services, including SEM and C-SAM analysis; counterfeit component identification and detection; and reverse engineering services.  Datest is proud to introduce its new 225kV microfocus CT system from VJ Technologies, offering CT scanning and failure analysis services for all manner of larger objects besides printed circuit board assemblies. Datest is ITAR registered and has a quality management system (QMS) that is certified to ISO9001 and AS9100C.  We will be transitioning our QMS to AS9100D in 2018.  For more information, call 510-490-4600 or consult www.datest.com.